Thinking about your Career?
Want or need to change? Never known what you actually were meant to do? Find out what really motivates you, what your interests are and how this fits with current or future roles.
Together with a coach, you will identify, understand and adjust your main professional interests and sources of motivation at work. By aligning your values and motivations to a live database of jobs, we guide you to rethink career development and the future of work. 
How it works
After a short, powerful assessment (Motiva), one of our qualified coaches debriefs you on your own interests, motivations, needs, values and skills and coaches you to find options, ideas and solutions to improve your engagement and happiness at work.
Do you like it?
We discuss your motivations and interests at work among 8 professionals' fields and 40 professional sub fields
Can you do it?
Do you feel you are now or in the near future able to do the work in your fields of interest?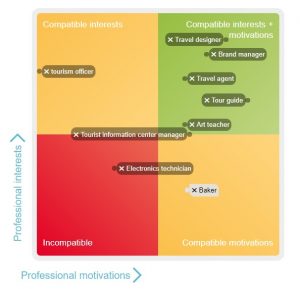 How do you want to work?
We discussed your preferred work environment and working style
Are you satisfied?
We'll have a look at your current work-related satisfaction
Your Report
The report from the assessment will give you your own individual profile on key motivational drivers and motivational satisfaction, a professional interests profile, a report on your fit level towards more than 1200 professions and an interactive career path simulator – you name a job and we can identify why this job would make you very happy, or why it may not be!
The coaching
An experienced and accredited coach will debrief you on your profile. We will explore the data together and generate insights which we can use to drive action moving forward. We offer virtual coaching sessions, where we will use Zoom, which enables us to both see each other and share screens.
What others say
It's great to see when our clients are getting insights on how to become more engaged, motivated and happy in their work.
"It was very interesting to see that business and sales is actually a big motivator for me and made me think twice about whether this new role is going to be what I am actually looking to do long term. Intuitively I had already had slight doubts, only now do I see why it's not my long-term ideal job. The most memorable was seeing that being self-employed was ranked so high, I think this is definitely where I want to end up"  Manager, December 2018
"Nicolien is very professional and insightful. I had the opportunity to be debriefed on the Motiva Assessment tool by Nicolien. In a very short time she was able to provide clarity and pin point during our conversation what matters to me and provide some direction and quick solutions to be able to get started in moving forward. I have done more in one week since our meeting , then I have in the last few months trying to working this out on my own. Thank you Nicolien." Career Changer, September 2019
Want to know more? Call Nicolien on 0422976554 or e-mail nicolien@brainco.com.au, or use this contact form, and we will get back to you: